On her blog The Beat, Heidi MacDonald posted part 2 of her annual year-end survey about the comics industry, and Daily Cross Hatch editor Brian Heater made some salient points about editorial cartoonists.
"I wish I could say that, in light of the fact that we had arguably the most important presidential election on our collective lifetimes, that the story had been political cartooning,'" Heater said. "But sadly that's not the case."
Certainly, the role of the editorial cartoonist has changed with the advent of the internet. Instead of a reader being stuck with whatever political cartoon the editor saw fit to print (or their local cartoonist produced), now the reader can simply scour the web to find a cartoonist that suits their taste or political leanings.
"It's really lessened their impact," he says.
Heater also made a point that some cartoonists have been bemoaning for months, that they're sad to see George W. Bush go because he was born for cartoonists,
"Perhaps two terms of Bush made folks lazy."
Mike Luckovich, the Pulitzer prize-winning cartoonist for the Atlanta Journal-Constitution, has been making this point for months, and voicing his concern at cartooning President Obama.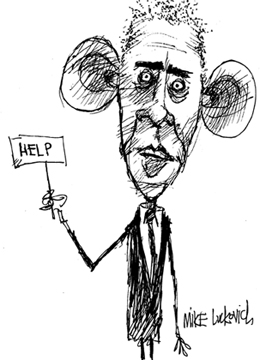 "Obama seems like a completely different personality. That's good news for the country, but for cartoonists it's going to be tough not having Bush around," Luckovich told Diane Tucker in an interview for The Huffington Post.
Cagle.com cartoonist Sandy Huffaker even retired from daily cartoons, telling Daryl Cagle that "he thinks Obama will win and prospect of losing President Bush makes him lose his anger and passion."
Some cartoonists don't seem to have the same issues. Certainly, conservative cartoonists like Michael Ramirez for Investor's Business Daily and Mike Lester for the Rome Tribune have no problem finding fault in the president-elect.
But as Obama settles in and begins to deal with such issues as the Israeli/Palestinian conflict, the worsening recession and a giant stimulus package, cartoonists will find plenty to tear apart and criticize.
Even Luckovich offered up a sketch of how he envisions drawing Obama if he were to become unpopular, which Tucker said make Obama "look like a mouse who's been tasered."