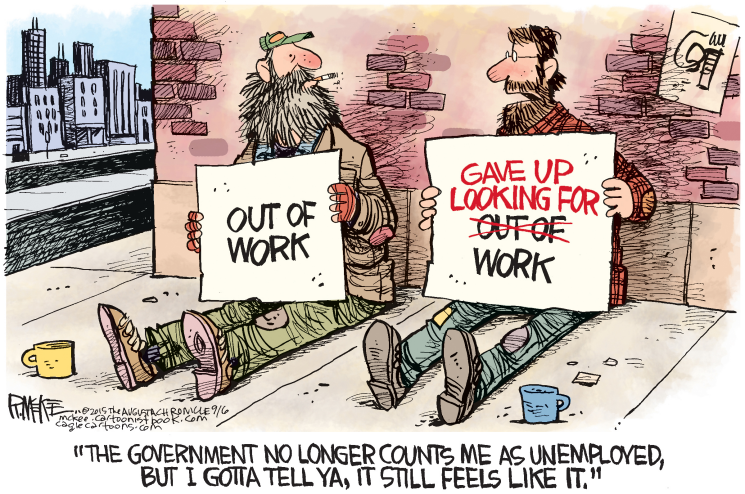 My son thought I was kidding him, but I really am writing about the LIGHTER SIDE of the 20th anniversary of being downsized out of my previous "day job."
Was my termination a surprise? Well, I had been both blue collar and white collar in my 15 years at the factory, so I guess I should have known the next fashion trend would be SHOCK collar.
My mentor (who was let go at the same time) was equally dazed, as we half-way comprehended the well-rehearsed "Nobody LIKES having to lay people off" speech. It had all the sincerity of a raspy "Lovely mom-and-pop store you have here. It'd be a shame if it suddenly burned down, capeesh?"
I guess I had MISINTERPRETED it earlier when I was assured that I was part of the core permanent team, that the company had sextupled profit on one of its key products and that "you don't save money by cutting PEOPLE."
Older and wiser, I now watch for all the NUANCES in conversation. So, if you're out walking your dog and yell to me, "Beautiful morning, isn't it?," don't be surprised if I answer, "Please, please, I'LL handle the Pooper Scooper - just don't take away my health insurance!"
Yeah, I'll bet a few of you old-timers remember when workplace dirty words had four letters instead of EIGHT ("B-E-N-E-F-I-T-S").
And I'll bet you're glad that George Washington was able to retire on his own terms as Father of Our Country. No one was announcing, "The board thinks that if we combine a consultant who knows FATHERHOOD with a consultant who knows COUNTRIES ... "
After I got over being blindsided by the ouster, I agonized over how to break the news to my wife. I ultimately decided to take the ROMANTIC route. ("Honey, let's get you out of that sexy new dress - and take it and the receipt back to the store!")
I hope some people at the company got a "golden parachute."My own preparation was more like an exhortation to "Try to steer toward a haystack!"
I was able to survive the unplanned downtime and start a new career with the help of unemployment insurance, family and church friends. And lots of platitudes.
I learned that whatever didn't kill me only made me stronger, that a smile could be my umbrella, etc. I took lemons and made lemonade (after the company decided that lemonade-making wasn't proprietary information that I had stolen from them).
I learned that "When one door closes - another one requires a truckload of WD-40 and crowbars to pry it open." (I spent seven miserable months feeling guilty if I wasn't searching for a job every minute. Everywhere I went, there was a back and forth of "Underqualified," "Overqualified," "Underqualified," "Overqualified." Goldilocks in Human Resources couldn't muster a "Just right."
Anyway, since being kicked out of the nest, I've cherished every day, made new friends and learned new skills in retail.
I still run into former co-workers who were shown the gate either before or after I was, and we reminisce about the company's previous owners.
But I'm not tempted to get back into an industrial setting. If Goldilocks is in HR, who is in Maintenance now - the Three Little Pigs?
"Help! I forgot to 'lock out, tag out' and now the hair of my chinny chin chin is caught in the gears!"
-
Copyright 2018 Danny Tyree. Danny welcomes email responses at [email protected] and visits to his Facebook fan page "Tyree's Tyrades." Danny's weekly column is distributed exclusively by Cagle Cartoons Inc. newspaper syndicate.