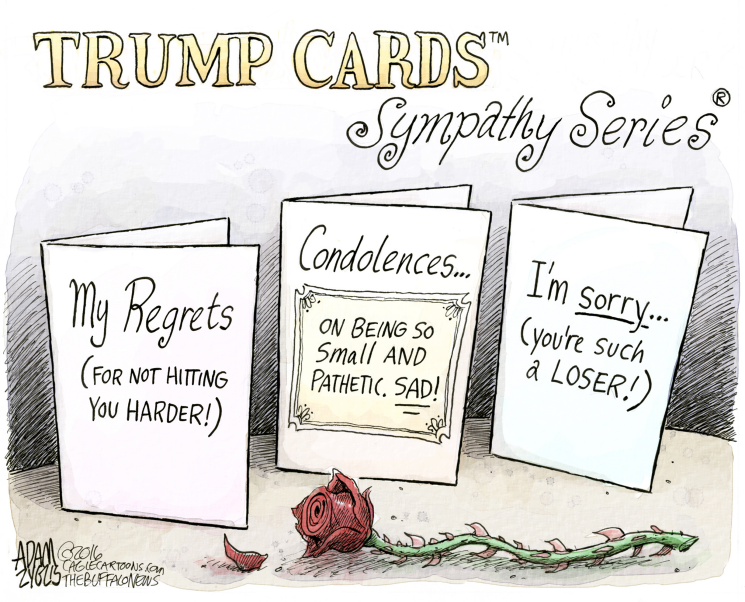 An open letter to our customers:
We let you down. We're sorry. And we're going to fix it.
When it was disclosed that we willfully misrepresent the amount of sugar in our products, our first reaction was to issue a denial. That was wrong. Since then, we have donated over $5,000 to the American Sugar Alliance to fund research into safer sugars.
You probably read how four young foreign customers were arrested at one of our Chicago outlets because the manager felt their hair was too long. We're happy to report that after just two days of sensitivity training that manager is now a senior vice president at our corporate headquarters.
After it was revealed that half of our cash registers are wired to bypass our accounting system and thus evade taxes, we could have taken the easy way out by noting that many businesses do this. Instead, we gave back to the community in the form of newspaper coupons offering 25 percent off coffee purchased after 5 p.m.
If you are among the roughly 18 million customers in our Loyalty Program who were notified recently that your personal information was inadvertently released to black market operators in Asia, we want you to know we are sorry. We have contracted with one of our offshore subsidiaries to upgrade our system without delay.
We would be remiss if we didn't use this opportunity to apologize for the accidental release over a three-year period of toxic materials from our factory in Michigan. The thousands of residents along the Brule River who were affected, many of whom have had to relocate, are our friends and neighbors. They will not be forgotten!
As many of you know, we have had to remove the "Comments" section from our website, due to the many unsubstantiated attacks posted there. Going forward, we will conduct Town Meetings at select stores over the coming months and your participation is welcome.
Send your questions - about substandard wages, discriminatory hiring practices, union busting, etc. - to our public relations department at the address below. Be sure to enclose a stamped, self-addressed envelope if you wish to be notified about whether your question has been selected for discussion at a Town Meeting in a state near you.
Next Wednesday at 3 p.m. we will be closing all of our stores for 90 minutes. Our Team Members and Management Partners will conduct a thorough cleaning, long overdue, of our restroom facilities. We heard your complaints. We won't let you down.
This company was established in 2011. We were re-established in 2014. Now, we are re-re-established in 2018.
We pledge to re-establish ourselves, as often as needed, until we make things right.
It's a new day in America. We are proud to do our part by running this ad.
-
A list of Peter Funt's upcoming live appearances is available at www.CandidCamera.com.
Peter Funt is a writer and speaker. His book, "Cautiously Optimistic," is available at Amazon.com and CandidCamera.com.Copyright2018 Peter Funt. Columns distributed exclusively by Cagle Cartoons, Inc., newspaper syndicate.