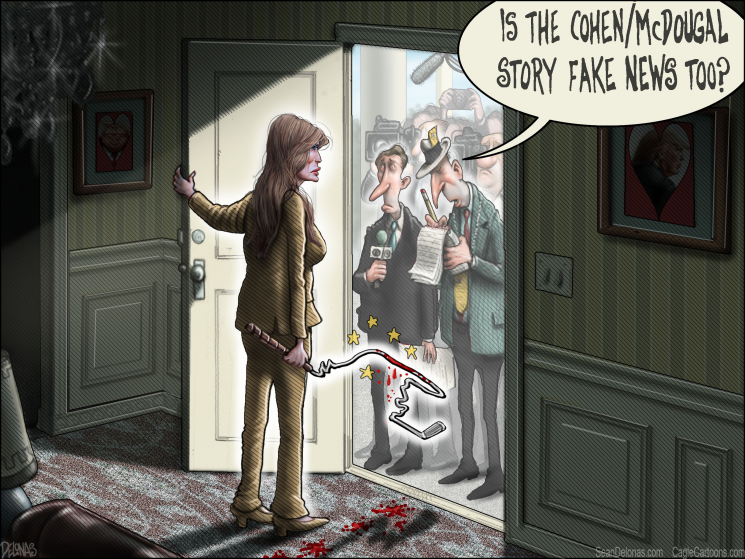 In his infamous marathon testimony before the Senate Intelligence Committee in June 2017, former FBI Director James Comey quipped "Lordy, I hope there are tapes."
Those tapes - which President Donald Trump implied that he had made of his conversations with Comey - never did surface. But this week, a perhaps equally explosive one did when the lawyer of former Trump personal attorney Michael Cohen shared a recording with CNN.
On that tape, then-candidate Trump and Cohen are heard discussing a number of different campaign and business matters. The most explosive part of the conversation, however, references the need to make payments to "our friend David" -who owns the parent company of the National Enquirer. The same Enquirer that, in the weeks leading up to the 2016 presidential election, purchased the rights to and then suppressed the story of Karen McDougal, a former Playboy Playmate of the Month who alleges a 2006 affair with Donald Trump.
Conversation around the tape immediately devolved into minutia, with the president's current personal attorney Rudy Giuliani claiming that "there's no indication of any crime being committed," and proceeding to quibble about whether or not Trump was talking about making cash payments or not.
There is a much bigger picture issue at hand, however.
Regardless of whether or not the payment was legal, this recording clearly shows that Donald Trump was fully aware of efforts to suppress this story of an alleged affair in the lead up to his election. His campaign, through former spokeswoman Hope Hicks, had previously flatly denied that in November 2016. The White House has not answered for this revelation, and in fact banned a CNN reporter from an unrelated presser in the Rose Garden for trying to ask about it.
In addition to being complicit in covering up the McDougal story, we know - thanks to Giuliani blurting it out on live television a few months back - that the president also knew of another set of similar hush money payouts. Stephanie Clifford, also known as Stormy Daniels, alleges an affair with Trump as well, and was paid off by Cohen shortly before the election. Per Giuliani's admission, Trump personally reimbursed Cohen for making those payments.
It's hard to say something is beyond the pale in the Age of Trump, but surely this is. Any other president throughout U.S. history, regardless of their own party affiliation and those in control of Congress, would face an investigation over allegations that he covered up an affair - not least of all to determine if campaign finance violations were committed in the course of doing so.
And though the president's most ardent supporters will not like to hear it, this now undeniable pattern of lying - specifically about claims against him by women - warrants the reopening of another conversation that never should have been closed. More than a dozen women have accused Donald Trump of sexual harassment or assault, and it is the official position of the White House (per Press Secretary Sarah Huckabee Sanders) that they are all lying. Now, we know that the president himself has lied directly about two affairs - and he was, after all, caught bragging about sexual assault on tape.
All this cannot be just another blip in the chaos of the Trumpism maelstrom. As the White House lurches from one self-inflicted crisis to the next, it should not be allowed to pretend that this tape does not exist and its past denials were untruthful. And any party that once or ever claimed itself to be the stewards of 'family values' or government oversight or basic, simple morality must not ignore the evidence that is now before them more glaringly than ever.
This story will no doubt get more complicated in the weeks ahead as news continues to break and new tapes, undoubtedly with further details and probably with more wrongdoing exposed, continue to emerge. But the basic fact of the president's lies are now out in the open. The only question is what, if anything, the rest of us will do about it.
-
Copyright 2018 Graham West, distributed exclusively by Cagle Cartoons newspaper syndicate.
Graham West is the Communications Director for Truman Center for National Policy and Truman National Security Project, though views expressed here are his own. You can reach West at [email protected].